This website is no longer updated! Please click here to visit our new blog, The Creative Salad, to read this and other new posts. THANKS!
Preserving Lemons
Another post in our First on Friday series where we share a recent, new experience.
I had never heard of preserved lemons until my good friend Alissa offered to teach me how to make them. I didn't hesitate because I love learning new things, Alissa is so much fun, and what the heck are preserved lemons?!
Well, they are easy, SO EASY, to make and I've learned that you can use them in a variety of recipes (usually, though not exclusive to, Greater Middle Eastern cuisine). You can use the rind in salad dressings, fish or chicken dishes, stews, marinades, with pizza toppings, "anywhere you'd normally use lemon zest for a more intense, lemon kick."
As for how they taste, I don't know the answer to that yet. You see, you have to let them sit for a month in the fridge before you can use them. I'll let you know how they taste in another week when they're ready. :)
(I've included a list of links at the bottom of this post with more information about the process of preserved lemons and their many uses.)
Let's get to the process. Here's an overview.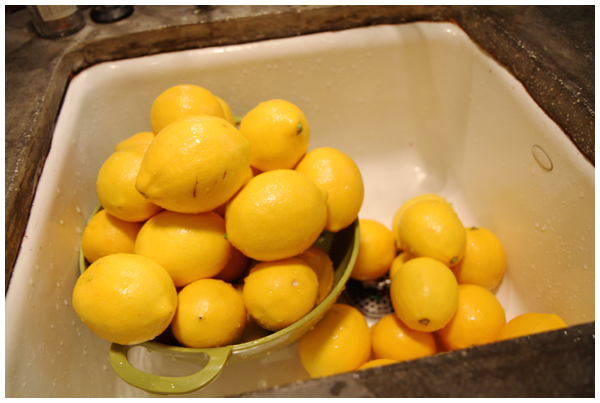 Start with lots and lots of lemons (since you will be eating the peel, be sure to use organic or unsprayed lemons). Scrub them clean.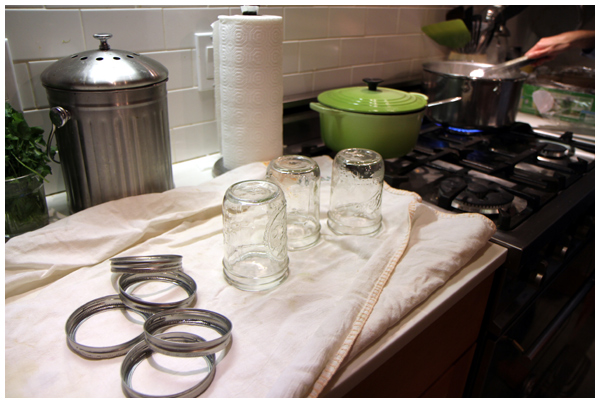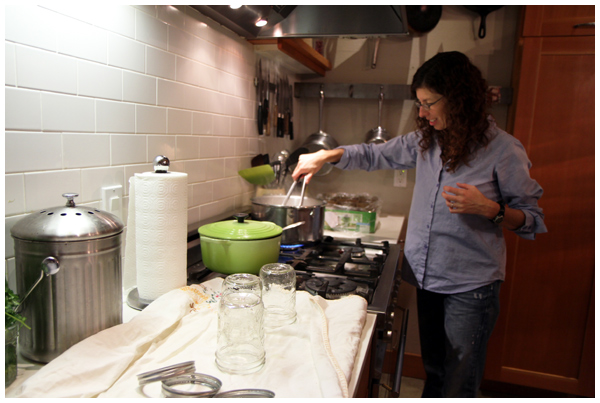 Place canning jars and lids in boiling water for several minutes to sterilize them.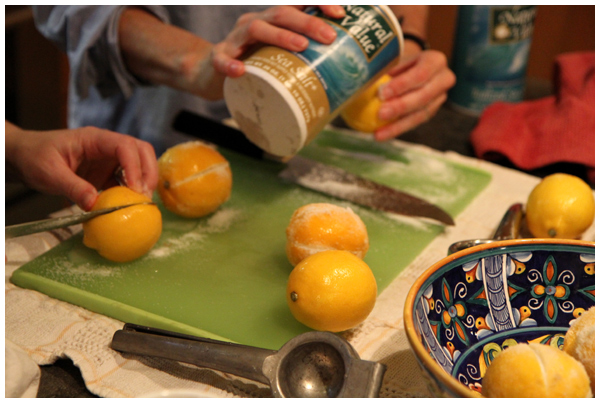 Slice into (but not fully through) the lemons on four or five sides and stuff with salt.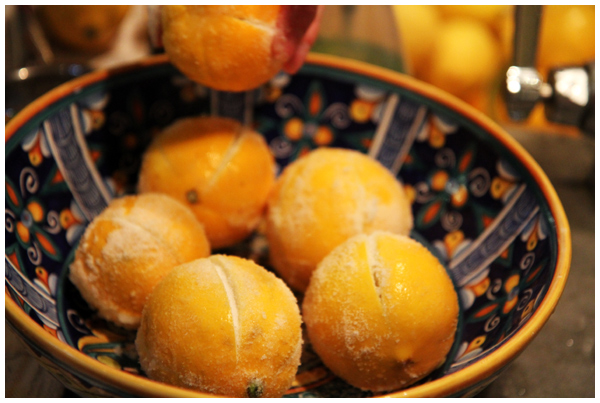 Set these salt-stuffed lemons aside while you juice many, many lemons. (Might I recommend this tool
that I use daily and love?)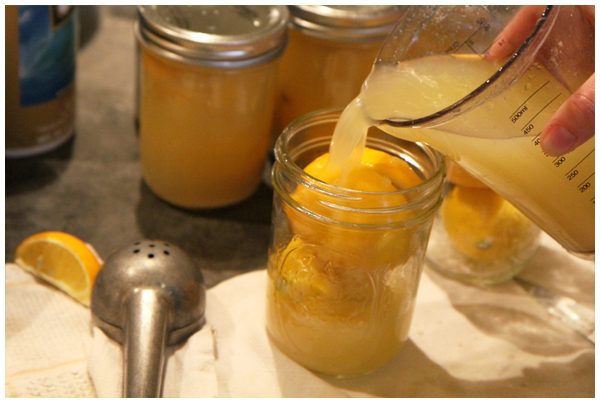 Place two (or more) lemons into the bell jars. Fill with lemon juice.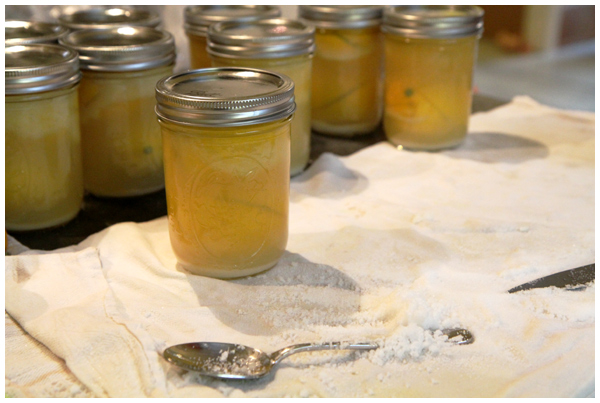 Seal tightly.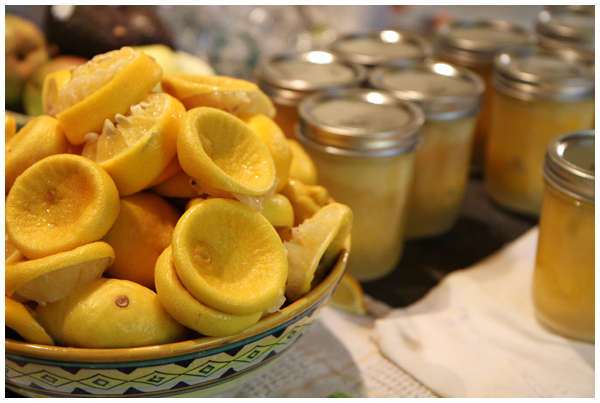 Admire your handiwork and the sheer number of lemons you went through.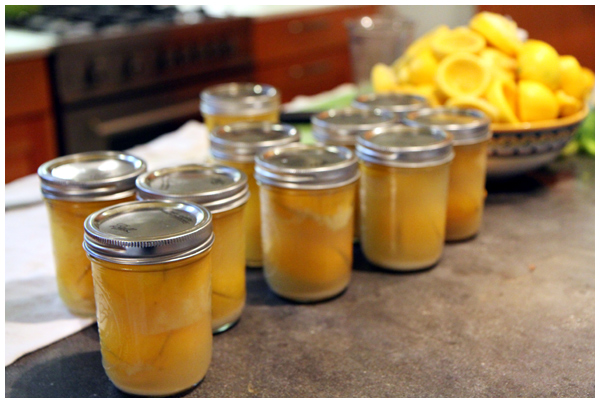 Place them in the fridge for a month and then you can start using them!
Want to learn more about the history of preserved lemons, the many ways to preserve them and find some recipes incorporating them?
Check out:
+ David Lebovitz's method for preserving lemons (similar to what we did, just taking a few more days).
+ Heidi Swanson's method as described on her delightful site 101 Cookbooks.
+ The Kitchn's how to article that parallel's our method and explains it more fully.
+ This fascinating article on Serious Eats about that "secret ingredient."
+ A great article about all of the above, plus a demonstration video on Stone Soup.
Recipes incorporating preserved lemons to try:
+ Fettuccine with Preserved Lemon and Roasted Garlic
+ Quinoa with Asparagus and Preserved Lemon Dressing
+ Sauteed String Beans With Garlic and Preserved Lemon
+ Grilled Salmon with Preserved Lemon and Green Olives
+ Sautéed Shrimp with Preserved Lemon
+ Lentils with Spinach and Preserved Lemon (plus another recipe for making, you guessed it, preserved lemons)
4 Comments
I would love to try this some time! Beautiful photos Carrie, and I adore her kitchen!!!

Comment by Ashlee — January 21, 2011

Ashlee: Isn't her kitchen gorgeous?! Plus it's laid out perfectly so it's a pleasure to cook in. :)

Comment by Carrie — January 21, 2011

We have a tree hanging full of lemons in our backyard. I think I am going to make these. Would you like to join us?

Comment by Diane — January 21, 2011

Diane: YES! I emailed you.

Comment by Carrie — January 21, 2011
RSS feed for comments on this post.
Sorry, the comment form is closed at this time.